Two Morrows Lake Tahoe Cabin Vacation Rental Home
Two Morrows Tahoe Cabin captures the essence of outdoor living with no compromise of comfort levels. This cozy 1154 square-foot Lake Tahoe vacation rental sleeps three couples plus up to four children and an infant or toddler (maximum of 8 occupants excluding children 5 and under) comfortably in a setting that is as close to nature as you can get. Relax and enjoy the views from the decks on three sides of our cabin.
Enjoy dining out at a nearby restaurant, or choose to relax at our cabin with its complete kitchen and a fire in the wood-burning stove, along with home-style entertainment. Kids love our Tahoe vacation rental cabin! It has lots of outdoor space to play summer or winter, and our smoke-free vacation home has three themed bedrooms and two bathrooms. Two Morrows Tahoe Cabin is supplied with a baby crib, high chair, children's books and toys. Children are never bored because there are over 500 videos and several games at our Lake Tahoe mountain cabin. Our vacation rental home has many child-safety features.
Looking for a pet-friendly vacation rental home? You have found it! Dogs are welcome at our Lake Tahoe vacation home. They will enjoy exploring the wooded half acre that our mountain cabin occupies.
Washer and dryer
Linens and towels provided – or bring your own
Wood-burning stove with plenty of firewood
Forced-air furnace
Beds
2 queen beds
1 double bed
1 set ofbunk beds
1 crib
1 sofa bed (double)
Kitchen
All the major appliances (stove, refrigerator and dish-washer) were new in the fall of 2006.
Cooking utensils & silverware
Popcorn popper
Electric coffee maker
Coffee grinder
Electric frying pan
Toaster
Crock pot
Waffle iron
Electric mixers (hand-held & stand)
Blender
Microwave
Bathrooms
Each bathroom has an electric wall heater with a timer. Each also has a hair dryer stored under the sink. Both have showers. One also has a tub. Both have new light fixtures and cabinets in 2016.
Communication
High Speed WI-FI Internet
Telephone – Land line
Entertainment
Sound sytem & CDs
DVD player
Stereo system
Smart TV (No Cable/Satellite)
VCR
Video library
Cabinet of board games
Library with books about Tahoe
Toy box
Children's books
Outlet with USB plugs
Outdoors
Charcoal BBQ grill
Lawn chairs
Picnic table & benches with umbrella
Three decks
Folding picnic table with benches
Bear-proof garbage bin
Paved & plowed level driveway
Bear fencing around doors & windows
All on a half-acre wooded lot
Other Amenities
Iron and ironing board
Sewing kit
Note
We thank you for not smoking indoors or out at Two Morrows Tahoe Cabin. Our vacation home is located in a forest, and the duff is often very dry in summer. We maintain the vegetation and trees around our mountain cabin very carefully in order to provide defensible space, so please, do not start a forest fire! Pay attention to RED FLAG days when any outdoor flames are not allowed, such as BBQs. And don't pitch cigarette butts into the snow. They make an unsightly mess when the snow melts.
More Features
The mud room in our ski cabin has a storage locker for skis as well as a stacking washer and dryer. The dryer is very handy when the kids come in from sledding or a snow-ball fight!
• Wheelchair accessible ramp to the deck
• Kid-friendly
• Pet-friendly
• Driveway parking for four cars in summer, two in winter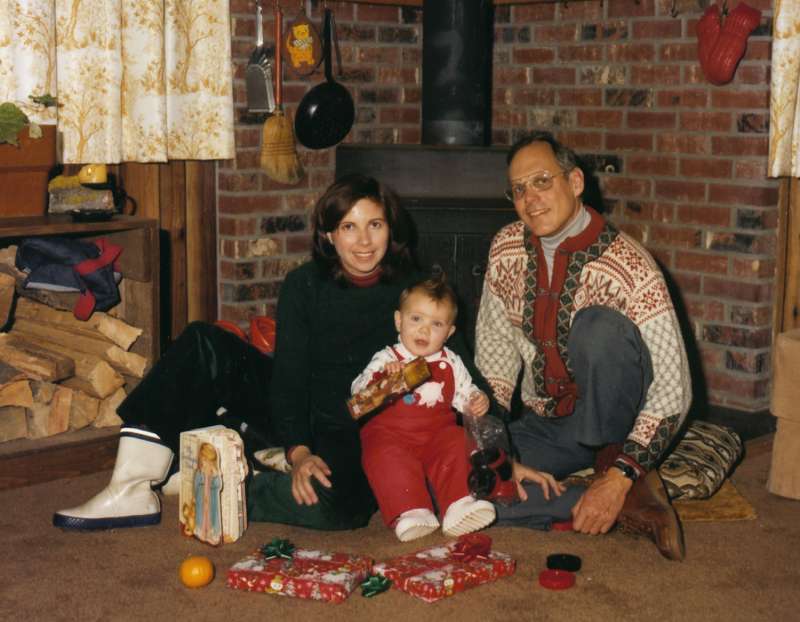 Living Room
The living room, kitchen and dining area of our mountian cabin are combined in a great room. The living room features a wood-burning stove with plenty of firewood, a television (but no cable), VCR, DVD, video library, sound system, CDs, game cabinet and a sofa bed.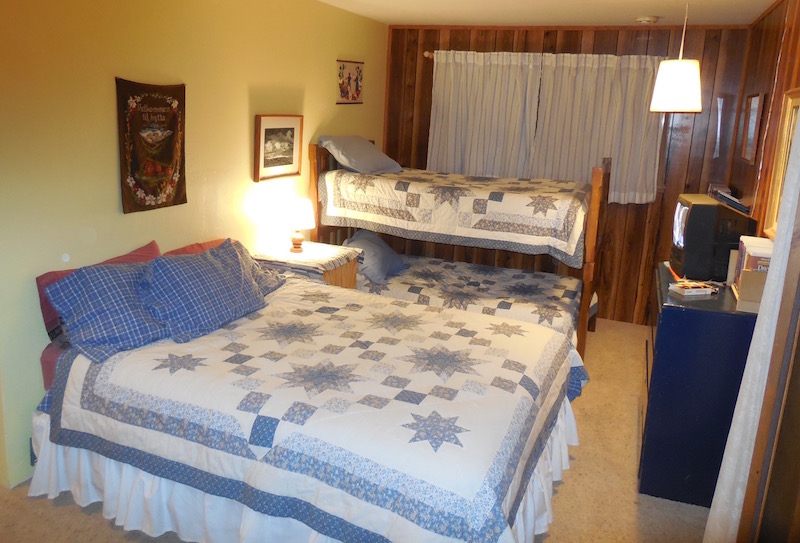 Master Bedroom
Tastefully decorated and comfortably furnished, the master bedroom at our vacation home features one queen-size bed and two bunks, sleeping two adults and two children, and is ideal for a family of four. And there is a small television with a VCR and lots of video tapes there….so send the kids off to watch a movie while the adults enjoy conversation in the living room. A sliding glass door leads to the back deck. A small picnic table with benches is stored under the bed… set it up for the children to enjoy their own private picnic area.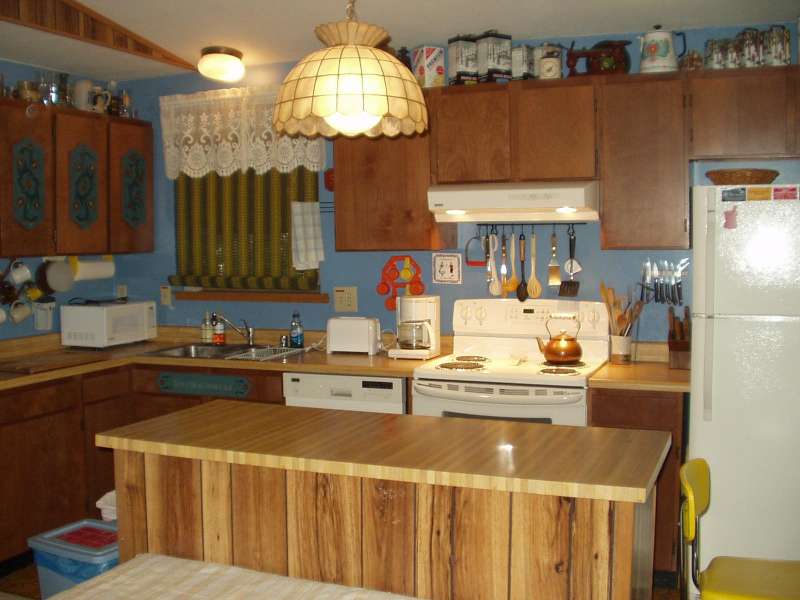 Kitchen
New kitchen appliances were installed at Two Morrows Tahoe Cabin in 2006 in the kitchen that is part of the great room area with the living room and dining room. It is fully equipped and ready to use with everything you'll need to create fantastic meals to be enjoyed outdoors at the picnic table in summer or indoors when a group of friends gathers at our mountain cabin for a ski weekend. The kitchen features a microwave, dishwasher and coffee maker.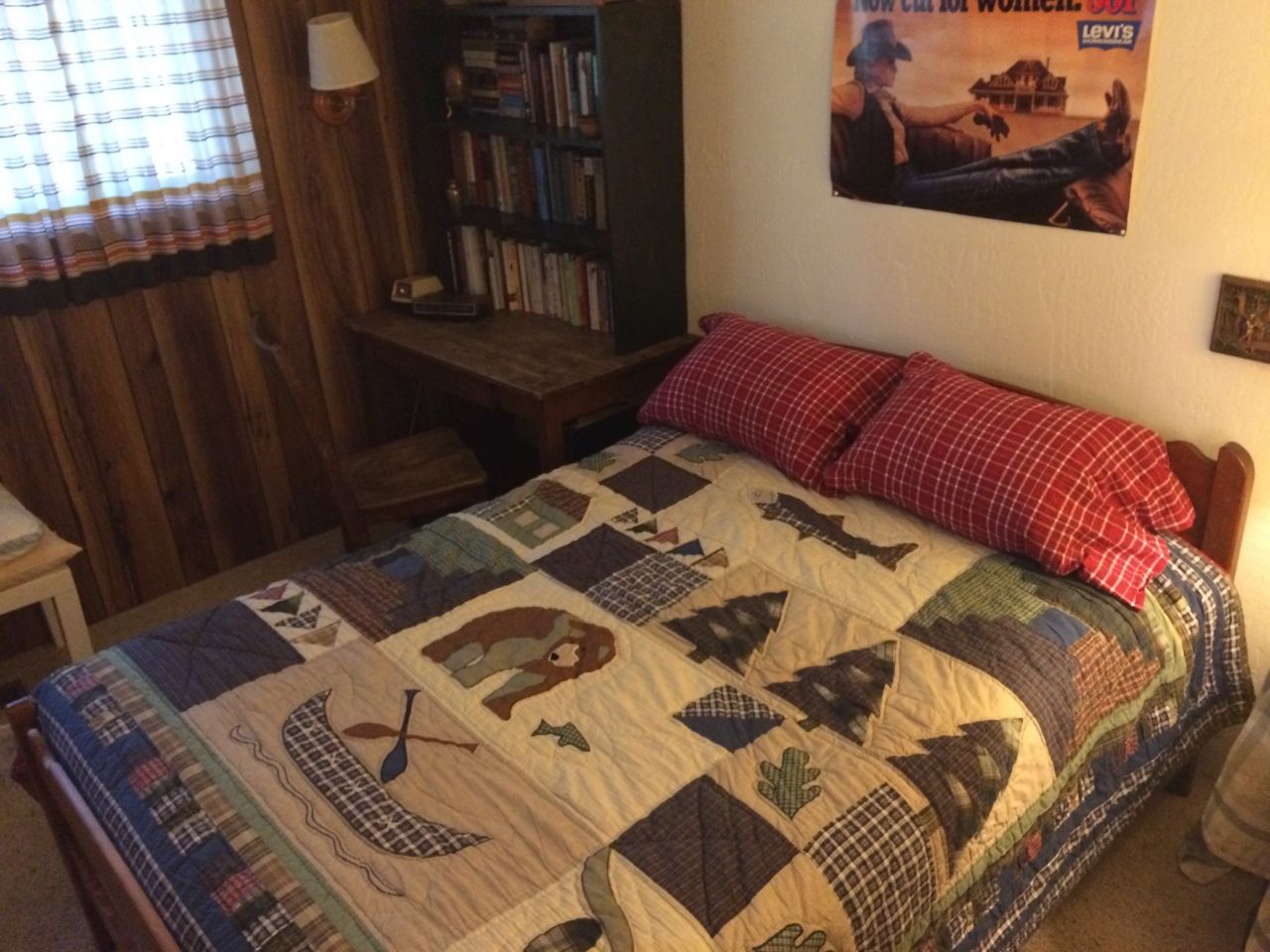 Middle Bedroom
The middle bedroom in our vacation home has a comfortable double-size bed and can sleep two adults. It also has a desk and a bookcase. There you will find several books about Lake Tahoe…things to do, places to see, the history, the trees, the flowers, the animals, the hiking trails. There is even a book about where to take your dog at Lake Tahoe.
Front Bedroom
Our Swedish room is furnished with a baby crib as well as a queen size bed. This bedroom is a cheery abode for a family with an infant or very young child. The closet contains bedding for the crib as well as toys for children, a high chair, a potty stool, and a pack-n-play to set up in the living room or on a deck.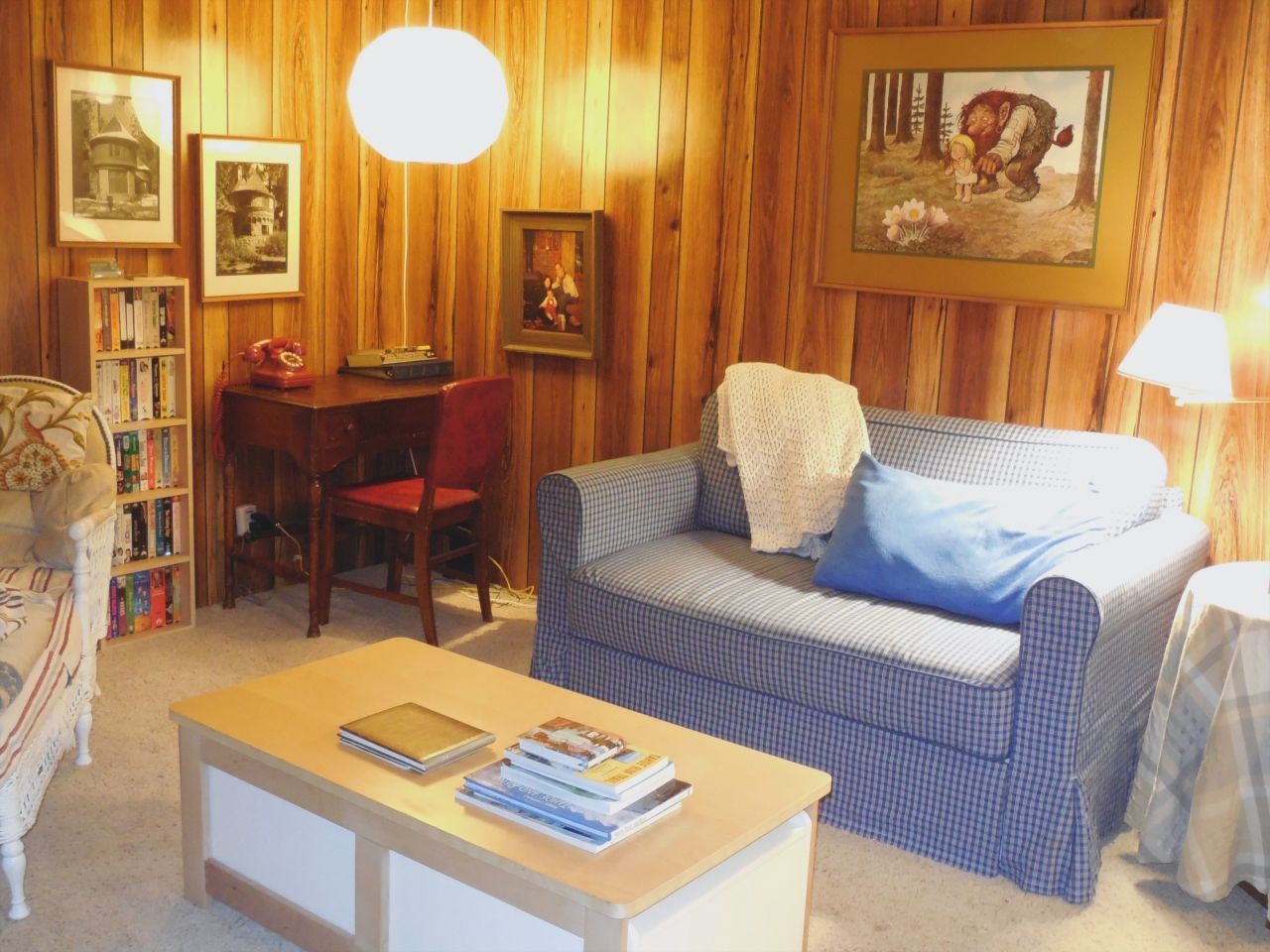 Additional Sleeping Areas
The living room of our mountain cabin easily doubles as a sleeping area when you have lots of good company. There is a sofa bed that sleeps two children.
Each bedroom has a closet.
One bathroom has a tub and a shower. The other one has a walk-in shower. Both have wall heaters that are on timers. Hair dryers are stored in the cabinet under the sinks. There are plenty of towels! The mirrored cabinets and four-bulb light fixtures were added in 2016.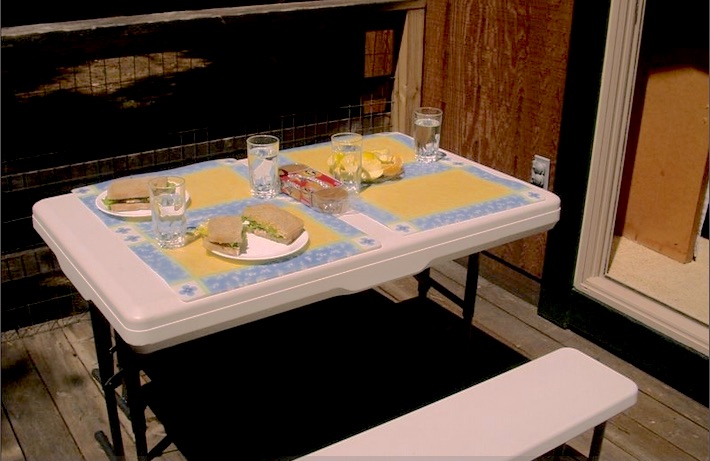 Outdoor Living Spaces
There are decks on three sides of our mountain cabin with views of the natural surroundings. The rear deck at Two Morrows Tahoe Cabin is fenced and it is safe for small children and pets to wander. It also has a small picnic table that seats four, and two folding chairs and table. The front deck has a picnic table and benches which are put away during the winter months. A barbecue grill is stored in the bin along the side deck, and is easily accessible (but may not be available, depending on Forest Fire risk). Clean it if you use it! We don't want bears tearing apart our bin!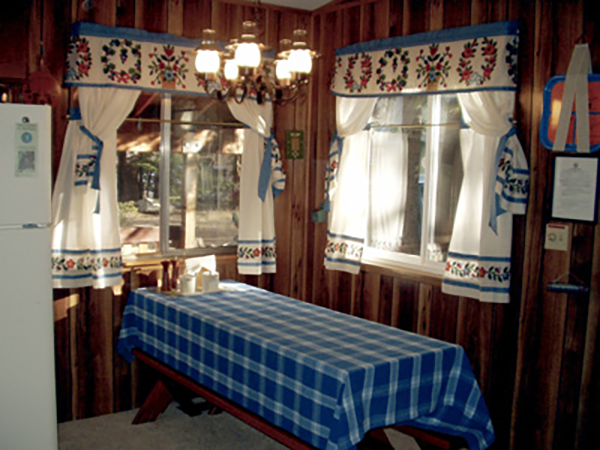 A Holiday Feast?
Planning to spend your next 4th of July in a uniquely picturesque and memorable setting? Then invite your family to Two Morrows Tahoe Cabin for the holiday – Lake Tahoe style. The kitchen in our vacation rental home is well-equipped to handle the preparation of that special dinner, including pies and desserts. In the cupboards you will find staples such as sugar, syrup, salt and spices.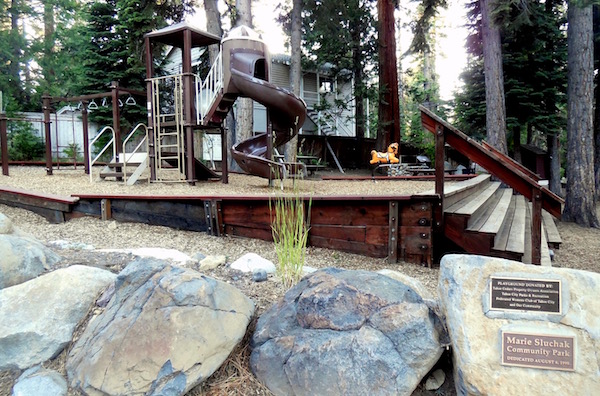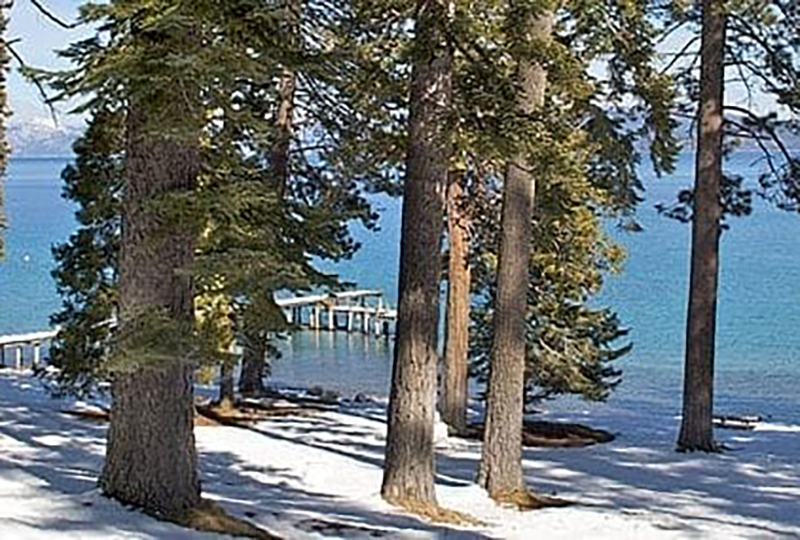 State Parks and lake in the area
Rules and Regulations
The rules and regulations for our cabin are spelled out in our Welcome Book. It is in two parts: The first part is sent to you when you inquire about the cabin, along with a contract for you to sign and return to us if you wish to book it. The second part contains driving directions, how to get in, and how to manage out home as well as some neighborhood information, and is emailed to you after we receive your completed and signed contract. Then, shortly before your arrival date, you will receive the code for the keyless entry lock.
El Dorado County regulates vacation rental properties very closely. The fines for not adhering to them are high. Some are general, and some are specific to our cabin. Those specific to our cabin include: No more than 8 occupants with the exception of children age 5 and under, no more than 3 vehicles in the driveway, Some that are common to all VHRs in El Dorado County are: No excessive noise, no guests during quiet hours from 10 PM to 8 AM, no garbage left outside the bear bin, no open fires, boat inspection mandatory, no street parking from Nov. 1 to May 1, dogs must be on a leash 10 feet long or shorter and owners are required to clean up after them.
We have additional rules for our cabin that include: no smoking, no large and unruly parties, no under-age drinking, no illegal substances, and follow the checkout list when you leave.
Sun is more intense at high altitudes!
Lake Tahoe sits at 6200 feet above sea level.  The atmosphere is thin and the sun penetrates it much more than at lower elevations.  Be sure to bring lots of sunscreen and sun glasses…and wear a hat!
Backyard Camp Fires Warming Fires Regulations:
During fire season you cannot have a fire in your fire pit in the backyard, unless it meets the following requirement:
If your fire pit is screened, and meets the requirements: total fuel area of 3 ft or less in diameter and 2 feet or less in height, At least 15' from a structure or combustible material. "Warming fires" are only allowed in the following: LNG outdoor fireplace, LPG out fireplace, grill/BBQ, properly screened wood burning outdoor fireplace or chiminea
A Fed Bear is a Dead Bear
We who are attached to Lake Tahoe love our bears, but we don't want them in our houses or vehicles!  So please do not leave food out in the cabin.  Two years in a row, bears tried to get into our cabin through a small glass covered door set into the front door.  We fixed the first time, then covered it completely inside and out the second time and purchased bear fencing, that is, electric wires across windows and electric elastic cords across the doors.
It's very easy to use:  Slide the lever from on to off to turn off the current, then detach the cords from one side of the door and put the hook with the matching hook on the other side of the door, and you are in!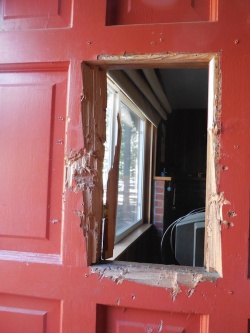 The next spring, the bear was back and more determined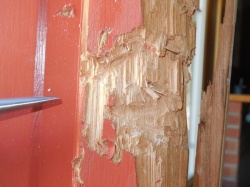 He took a fairly big chunk out!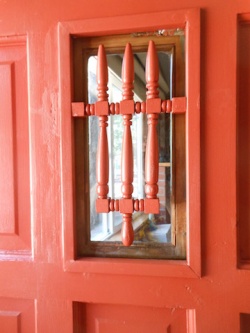 We fixed it as best we could.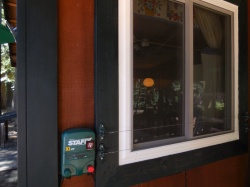 So we purchased bear fencing across the windows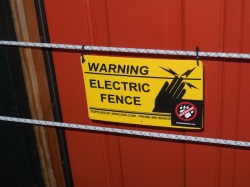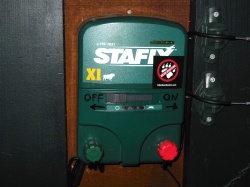 It's easy to operate. Just slide the lever from on to off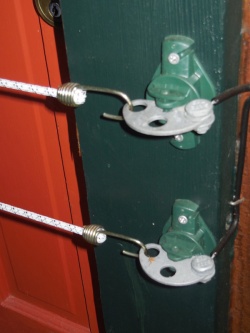 It's easy to unhook the spring cord on one side.
WORK HOURS
7 DAYS A WEEK
9 AM - 9 PM
Email
twomorrowstahoecabin@gmail.com