Welcome to Two Morrows Tahoe Cabin!
Welcome! Life is about the moments. We hope you'll create some at Two Morrows Tahoe Cabin. Pet-friendly and smoke-free, our cozy Tahoe cabin sits on a wooded half-acre in Tahoma, on the peaceful Westshore of California's legendary Lake Tahoe in the Sierra Nevada Mountains. It offers 1154 square feet of country living within walking distance of Lake Tahoe's uniquely clear blue water and pristine beaches.
Whether you are searching for a ski cabin, a summer vacation rental home, or an autumn adventure near our fabulous lake, you will find it at our year-round Tahoe retreat. Don't miss the spectacular weather, views and outdoor recreational opportunities that Lake Tahoe has to offer. If memories that will last a lifetime is what you are looking for, refresh yourself at our Tahoe mountain cabin. Lake Tahoe will renew your spirit, and our Tahoe vacation rental offers a home with a soul.
Welcome to Two Morrows Tahoe Vacation Cabin
• 3 Bedrooms, 2 Bath
• Sleeps 8, excluding children 5 and under
• 1154 Square Feet
• Pet friendly
• Smoke free
• Family oriented
• Highspeed wirelesss Internet (WiFi)
• Well supplied kitchen
• Smart flat screen TV
• DVD and VCR
• Extensive movie library
• Child-proofing features
• Sound system and CDs
• Single level and ramp to deck
• Decks in front and back
• Outdoor summer dining
• Large yard
• Walk to restaurants, shops, etc.
• Walk to Lake Tahoe
• Walk to Sugar Pine Point State Park
• Walk to cross-country tracks at Sugar Pine.
• 3 miles to Homewood Mountain Resort
• Walk to public transportation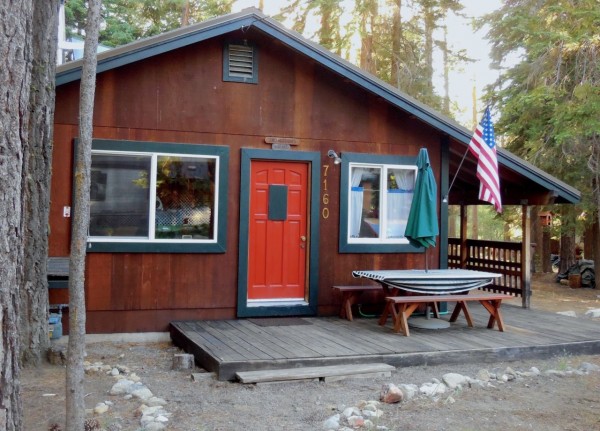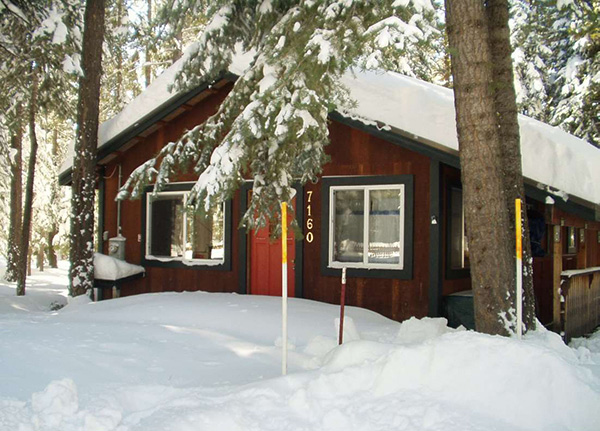 A Winter Wonderland
Book your winter ski vacation early, especially if you want a holiday week or weekend.
A Holiday Feast?
Planning to spend your next 4th of July in a uniquely picturesque and memorable setting? Then invite your family to Two Morrows Tahoe Cabin for the holiday – Lake Tahoe style. The kitchen in our vacation rental home is well-equipped to handle the preparation of that special dinner, including pies and desserts. In the cupboards you will find staples such as sugar, syrup, salt and spices.
Master Bedroom
Tastefully decorated and comfortably furnished with a touch of rusticity, the master bedroom at our vacation home features one queen-size bed and two bunks. It sleeps two adults and two children and is ideal for a family of four. There is a small flat-screen TV with a VCR and lots of video tapes there....so send the kids off to watch a movie while the adults enjoy conversation in the living room. A sliding glass door leads to the back deck. A small picnic table with benches is set up in summer months for the children to enjoy their own private picnic area.
Front Bedroom
The Front bedroom (the Swedish room) is furnished with a baby crib as well as a queen size bed. The bedroom is a cheery abode for a family with an infant or very young child. The closet contains bedding for the crib as well as toys for children, a high chair, potty, and pack-n-play.
Middle Bedroom
The middle bedroom in our vacation home has a comfortable double-size bed and can sleep two adults. It also has a desk and a bookcase. There you will find several books about Lake Tahoe...things to do, places to see, the history, the trees, the flowers, the animals, the hiking trails. There is even a book about where to take your dog at Lake Tahoe.
Additional Sleeping Areas
The living room of our mountain cabin easily doubles as a sleeping area when you have lots of youngsters in your party. There is a very comfortable double-size sofa that sleeps two children.
Each bedroom has a closet.
One bathroom has a tub and a shower. The other one has a walk-in shower. Both have wall heaters that are on timers. Hair dryers are stored in the cabinet under the sinks. There are plenty of towels!
Kitchen
New kitchen appliances were installed at Two Morrows Tahoe Cabin in 2006. It is fully equipped and ready to use with everything you'll need to create fantastic meals to be enjoyed outdoors at the picnic tables in summer or indoors when a group of friends gathers at our mountain cabin for a ski weekend. The kitchen features a microwave, dishwasher and coffee maker and many other appliances.
Living Room
The living room, kitchen and dining area of our mountain cabin are combined in a great room representing an open spaces design. The living room features a wood-burning stove with plenty of firewood, a flat-screen Smart TV (with many local channels but no cable), VCR, DVD, video library and a sofa that converts into a double bed.
Outdoor Living Spaces
There are decks on three sides of our mountain cabin with great views of the natural surroundings. The rear deck at Two Morrows Tahoe Cabin is fenced and it is safe for small children and dogs to wander. The front deck has a picnic table and benches which are put away during the winter months. A barbecue grill and folding chairs are also tucked away during the winter, but all are easily accessible once the weather warms up. The umbrella for the picnic table is stored under the bunk beds in the back bedroom.
WORK HOURS
7 DAYS A WEEK
9 AM - 9 PM
Email
twomorrowstahoecabin@gmail.com